Welcome to Coping with Cancer in Leicestershire and Rutland
Coping with Cancer exists to help the people of Leicestershire and Rutland cope with the practical and emotional problems, which can arise following a cancer diagnosis. We encourage a positive attitude, with emphasis on the quality of life for each individual affected by cancer.
We offer a range of services, which can be tailored to an individual or family's needs and requirements. These may be one-to-one services such as counselling or befriending, or in a group setting through our various activities and specific support groups.
Open every weekday, Helen Webb House, close to the centre of Leicester, offers a warm and inviting environment. Around the county, we also hold a weekly service in Market Harborough and a fortnightly service in Melton Mowbray.
Coping With Cancer was started in 1981 as a self-help group based in homes. Response to the services was overwhelming and eventually resulted in a move to our current premises funded by the Helen Webb Trust, in memory of Helen Webb who was a cancer patient.
Our services are free and available to all cancer patients, their families and carers in Leicestershire and Rutland.
12/08/2008 Fundraising Auction at the Harboro Hotel Melton Mowbray

SueOnions & Roger Stewart

August 12th 2008 Coping with Cancer fund raising held at Harboro Hotel with kind permission of Mike & Karen.

Evening commenced around 6.60pm with Phil & Ben Orridge dying their hair.............red & blue .Phil had sponsors and raised £100 to the cause. Nice 1 Podge!!!!!!!!!!!

The John Franklyn Lodge of the Buffaloes also very kindly donated £100 this was organised by Lew Buckingham....thank you so very much.

Hair cuts were performed by Gavin Bates ,who drew no blood thank goodness, on Tim Watkins,Keith,Alan Browning and others.
A raffle was held with prizes donated by Wilson Amusements,The Harboro,Orchid Beauty ,various individuals to whom we extend our grateful thanks.

A set of golf clubs was redonated to an auction to be held at a later date by John Beattie...thank you a great start to another successful night!
Roger Stewart represented Coping with Cancer as their Charity Fundraiser Jane Hagreen was on holiday .

With very generous customers & friends a total of £536 was raised.................this followed the £208 raised by Melton Mowbray Scooter Club in June.
My heartfelt thanks to everyone who contributed in any way shape or form....you did me proud.

With thanks
Sue Onions

Gavin at work on Tim.

Staff at Harboro.

Phil "Podge" shows off his new hair style.
---
Melton Mowbray Scooter Club rallies round for
Coping with Cancer

Coping with Cancer was delighted to be presented with a cheque for £208 at the Welby Pub on 30th July 2008 raised by the members of the
Melton Mowbray Scooter Club.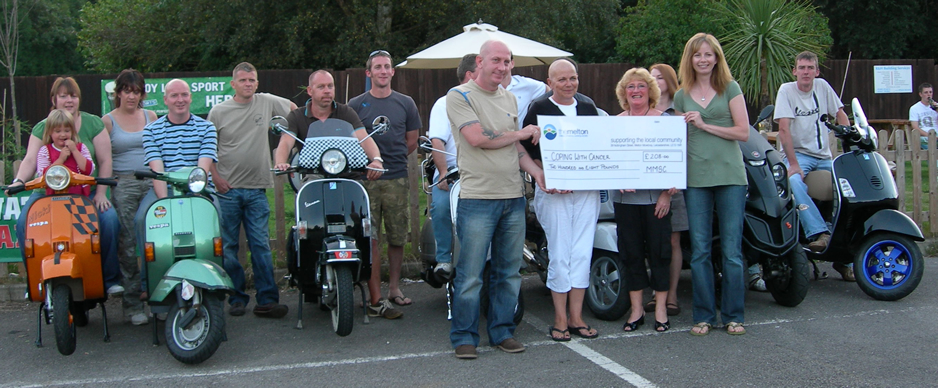 Sue Onions & Gavin Bates handing the cheque to Jean Galloway & Jane Hagreen
The money, which will be used to help support Coping with Cancer's fortnightly Complementary Therapy service at the Samworth Centre in Melton, was raised through holding a raffle at one of the Club's biggest gatherings, where 150 scooters and drivers converged at the Welby Pub on 25th June from the East Midlands area. Prizes were donated by members of the club and My Guy clothing shop, Nottingham Street.

Coping with Cancer in Melton Mowbray
Coping with Cancer is a local charity, dedicated over the past 27 years to giving practical and emotional support to anyone affected by cancer in Leicestershire and Rutland.
We hold a fortnightly complementary therapy service at the Samworth Centre, Burton Street, Melton Mowbray on Tuesdays from 10am - 1pm, where anyone affected by a cancer diagnosis can drop in and enjoy a relaxing aromatherapy massage, reflexology or reiki treatment by a team of qualified, experienced therapists.
There is also the opportunity to talk to staff members and other clients over a cup of tea or coffee in an informal atmosphere.
The session also gives people the opportunity to find out about the wide range of support services that our charity offers, which are available to cancer patients, their families, carers and close friends from the moment a diagnosis is made.
As a charitable organisation we do not charge for the services we offer.
For further details please contact Lucy Pugh, Complementary Therapy Co-ordinator on 0116 223 0055 or email complementarytherapy@c-w-c.org.uk
Coping with Cancer in Leicestershire and Rutland
Helen Webb House
35 Westleigh Road
Leicester
LE3 0HH
Registered charity no. 514318

Coping with Cancer in Leicestershire and Rutland
Helen Webb House
35 Westleigh Road
Leicester
LE3 0HH
Tel: 0116 223 0055
Fax: 0116 223 0062
www.c-w-c.org.uk
Email: admin@c-w-c.org.uk
Language Line: 0116 223 0020
Telephone Support: 0116 255 4029